WCAPS Young Ambassador Program (YAP)
Join the WCAPS YAP for a conference call on August 14th at 6:30 to discuss future programs and activities. You can register for the call here.
Visit to the Phillips Collection
In August 2019, members of WCAPS visited the Phillips Collection to see "The Warmth of Other Suns: Stories of Global Displacement" exhibit. After the tour, the group engaged in an exchange with WCAPS Executive Director, Amb. Bonnie Jenkins and the Director of the Phillips Collection, Dorothy Kosinski. Please click on the photo below.
WCAPS Cybersecurity and Emerging Technologies Working Group Event, "Artificial Intelligence: Hype or Reality," on August 1. You can register here. This will also be streamed on facebook.
Some participants from the "Artificial Intelligence: Separating Hype from Reality" discussion, August 1st.
Join WCAPS for its "Workshop for New Ideas" discussion on June 18th. You can register here. Come ready to think outside the box.
Join WCAPS for its 2nd "Midcareer Hustle" discussion on June 6th at 6:00 pm, 1440 G Street, NW Washington, DC. RSVP at wcaps@wcapsnet.org.
Happy Hour with WCAPS and FP4A
WCAPS FORUM MAY 15: PREPARING FOR FUTURE FOREIGN POLICY CHALLENGES
WCAPS PANEL APRIL 29: BUILDING NATIONAL SECURITY DIVERSITY IN THE 2020 CAMPAIGN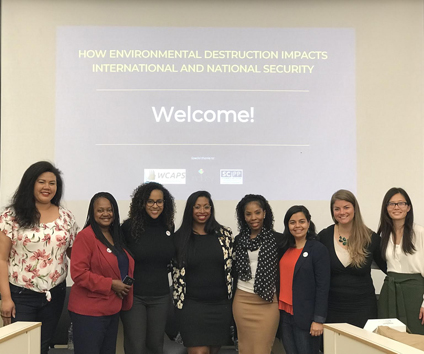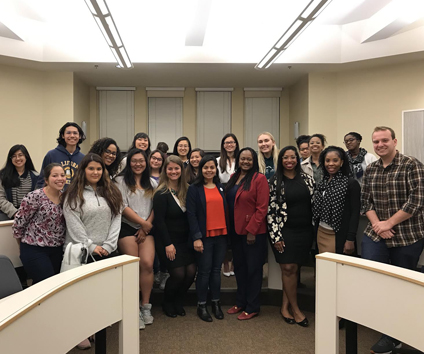 WCAPS and Brookings Institution "Redefining National Security: Interlinkages with American society and foreign policy" event on
April 5, 2019
On April 5, Women of Color Advancing Peace, Security and Conflict Transformation (WCAPS) and the Foreign Policy program at The Brookings Institution will host a discussion on the implications of this complex political environment in which domestic and foreign policy decisions influence each other. The discussion will outline how evidenced-based policy analysis and dialogue can inform a comprehensive U.S. policy.
On March 25th and 26th 2019, WCAPS collaborated with the Union of Concerned Scientists in meeting with congressional staff members and other entities, such as the NAACP and National Urban League, to discuss the need for diversity on nuclear weapons policy issues.
WCAPS event at the Carnegie Conference on Nuclear Policy, March 11, 2019
WCAPS will be presenting at RSAC College Day on Friday, March 8th! Camille Stewart, Chair of the WCAPS Cybersecurity & Emerging Technology WG will be providing tips on owning your own narrative at the Interview and Resume Writing workshop. Current students can register for RSAC College Day for free here: https://bit.ly/2PHo2BZ
Adrienne Gaither's series How I Got Over will serve as the foundation for a dialogue with the artist and Ambassador Jenkins. Recounting recovery from traumatic events, reflecting their impact and visualizing what it means to become "whole" again, Gaither reclaims geometric abstraction for the purposes of healing. Though bright and colorful, the paintings have undertones of violence in an attempt to affirm the trauma and recovery process as valid and deserving of space and recognition as a survivor. Gaither attempts to normalize the conversation around trauma, recovery and the space it occupies in our human existence. The work provides a platform for a discussion of the intersections of race, gender and dignity in our society.
Come join colleagues from WCAPS to share thoughts on challenges facing women as they pursue the next stage of their careers, and ways to break the glass ceiling. Refreshments at 5:30 and discussion starts at 6:00. After the discussion, there will be time to network with other WCAPS members. Feel free to bring your friends. We look forward to seeing you there! Registration is free and at the url below. The code is "WCAPS".
Logistics: Wework at 777 6th St NW, Room 11C | 777 6th Street Northwest | Washington, DC 20001
Thursday, February 7, 2019 from 5:30 PM to 7:30 PM (EST)
https://www.eventbrite.com/e/wcaps-mid-career-hustle-discussion-tickets-54868029754
Participants at the February 7th Mid-Career Hustle event.
Women shoulder the major burden of meeting health challenges in many parts of the world. Join WCAPS on Sept 18 to discuss health care challenges in Africa. http://ronaldbrownseries.org/
Promoting a Diverse Perspective in Nuclear Security & Nonproliferation
On June 18th (new date), the Hudson Institute and Women of Color Advancing Peace, Security and Conflict Transformation (WCAPS) will host a discussion on "Promoting a Diverse Perspective in Nuclear Nonproliferation." Representatives from the government, think tanks and foundations will share their views on the value of having a diverse perspective on issues of nuclear policy and nonproliferation and challenges they see and have encountered in bringing more people of color into the nuclear field. We will also discuss the pathways in which people of color have entered the nuclear field and what are the lessons that can be learned from their experiences. See below for additional information. Register at weitz@hudson.org.
Thu 6/21 | Screening & Discussion | Women, Race, and Dignity: This Ain't A Eulogy
Join us for the WCAPS Art Forum's inaugural event: a screening of Taja Lindley's short film, This Ain't A Eulogy: A Ritual for Re-Membering. The screening will be followed by a discussion between Lindley and Ambassador Bonnie Jenkins on the intersections of women, race, and dignity in our society, through the lens of art and policy. The event is presented by Art to Zebras, New York University Hemispheric Institute of Performance and Politics, and Women of Color Advancing Peace, Security and Conflict Transformation (WCAPS). The event takes place at the Hemisphere Institute in New York. You can register for the event here.
Webinar: Redefining National Security: Global Health and Infectious Disease
On May 24th WCAPS hosted a discussion on the role of global health and infectious disease in national security. Our featured speaker is Nicolette Louissaint, the Executive Director and Board President of Healthcare Ready. Healthcare Ready works to ensure continued patient access to healthcare by strengthening public-private collaboration. She was a Foreign Affairs Officer and Senior Advisor to the State Ebola Coordinator at the U.S Department of State. This discussion is part of WCAPS "Redefining National Security" series of discussions and panels.
Webinar: The World is Your Oyster: How to Build a Career in Foreign Affairs
On May 15th at 2:00 pm WCAPS featured Lia Miller who discussed the topic of, "The World Is Your Oyster: How to Build a Career in Foreign Affairs." Lia Miller is a Department of State Career Foreign Service Officer and has published numerous articles that provide extremely useful advice on pursuing a career in international relations.
WCAPS and Brookings Institution co-hosted a joint event, "Redefining National Security," on May 11 at Brookings in Washington, DC.
Then WCAPS hosted a happy hour networking event on May 11th to take place at Vapiano at 1800 M Street, NW in Washington, DC.