WCAPS FORUM MAY 15: PREPARING FOR FUTURE FOREIGN POLICY CHALLENGES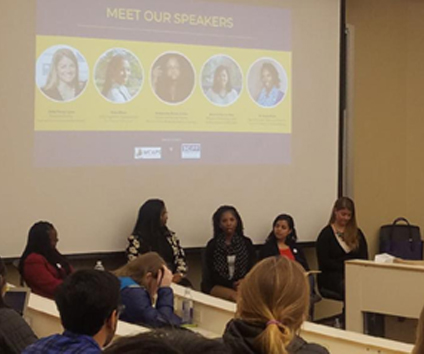 WCAPS and Brookings Institution joint event on "Redefining National Security: Interlinkages with American society and foreign policy," April 5, 2019.
WCAPS and Brookings Institution "Redefining National Security" joint event on April 5th.
On April 5, Women of Color Advancing Peace, Security and Conflict Transformation (WCAPS) and the Foreign Policy program at The Brookings Institution will host a discussion on the implications of this complex political environment in which domestic and foreign policy decisions influence each other. The discussion will outline how evidenced-based policy analysis and dialogue can inform a comprehensive U.S. policy.
WCAPS Board Member Crystal James highlights the issue of how health security is defined.
Sharon Jackson, WCAPS member, has a wide range of expertise in the National Security area focusing on the analysis and early warning of health issues. Please go to her website to see her recent articles on "National security and the opioid crisis" and "Why adequate nutrition for everyone is good national security policy," and "New Ebola outbreak in Democratic Republic of Congo."
Episode 18: "Redefining National Security" podcast with Bunmi Akinnusotu
Participants at the June 18th WCAPS and Hudson Institute event on "Diversifying the Perspectives in Nuclear Nonproliferation."
Read the report from the event here.
Webinar: Redefining National Security: Global Health and Infectious Disease
On May 24th WCAPS hosted a discussion on the role of global health and infectious disease in national security. Our featured speaker is Nicolette Louissaint, the Executive Director and Board President of Healthcare Ready. Healthcare Ready works to ensure continued patient access to healthcare by strengthening public-private collaboration. She was a Foreign Affairs Officer and Senior Advisor to the State Ebola Coordinator at the U.S Department of State. This discussion is part of WCAPS "Redefining National Security" series of discussions and panels.
WCAPS and Brookings Institution co-hosted a joint event, "Redefining National Security," on May 11th at the Brookings in Washington, DC.
Podcast from the Redefining National Security event hosted by WCAPS and UNA-USA on March 15, 2018.